Emerald 25
Pylon Audio tämänhetkinen lippulaiva on Emereald 25 malli. 4 ohmia, herkkys 89 dB,paino 30 kg kpl.
Hinta viimeistelystä riippuen 3095€-3345€
| | |
| --- | --- |
| Woofer | 2 x Pylon Audio PSW 17.8 CJA |
| Tweeter | Pylon Audio PST T-120.6 (mod. Seas 27TDC) |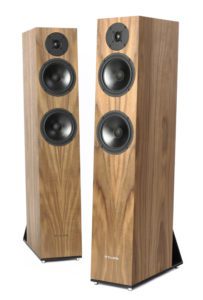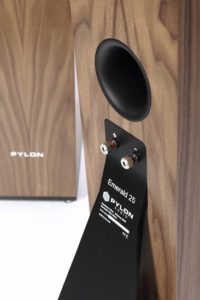 Diamond Monitor
Diamond Monitor sävykäs mutta tarkka mutta myös helposti sijoitettava kaiutin.
Teknsessä toteutuksessa mestarillisen puusepäntyön lisäksi poikkeuksellisen laadukkaat komponentit.
Hinta viimeistelystä riippuen 995€-1185€
Jalustapari 229€
Diamond Monitor - 2-way design based on the 19mm Scan Speak textile dome, characterized by spatial and retail sound. The bottom of the band is reproduced by the 18cm Norwegian Seas driver, that is offering colourful sounding well known from the other Diamond designs. This loudspeaker was modified by adding an additional magnetic ring that optimized Thiele-Small parameters for the needs of the application inserted in the mount-enclosures.
Diamond Monitor offers dynamic and spatial sound. Thanks to the optimization of the magnetic system, the speakers have a strong and well-articulated bass. The midrange tones of the set are a representation of precision and resolution, vocals and acoustic instruments are stable in a space filled with a great deal of information.
The steering in the monitors is mounted in the direct-mount technology, using only polypropylene capacitors. The placement of the coils have been optimized for minimizing interactions.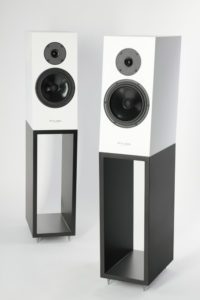 Diamond 28
Diamond sarjan lippulaiva. Vaivatonta suorittamista, tätä jää kuuntelemaan.
Hinta viimesitelystä riippuen 1998€-2295€
diamond 25
Diamond 25 jos Monitorin bassotoisto ei riitä.
Hinta viimeistelystä riippuen 1895€-2075€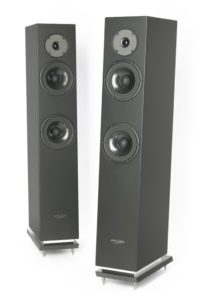 Diamond Center
Laadukkaan kotiteatterisetin täydentäjäksi.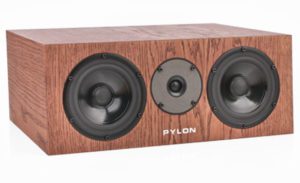 Diamond SAT
Laadukkaan kotiteatterisetin täydentäjäksi.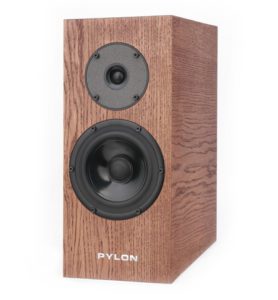 Sapphire 31
Hinta viimeistelystä riippuen 1198€-1348€
| | |
| --- | --- |
| Impedance | 8 Ohm |
| Bandwidth | 32 Hz - 20 kHz |
| Nominal power | 140 W |
| Maximum power | 200 W |
| Efficiency | 88 dB |
| Dimensions [W x H x D] | 240 x 1000 x 300 mm |
| Weight | 23,5 kg / piece |
| Woofer | Pylon Audio PSW 20-120.8 |
| Midrange speaker | Pylon Audio PSW 13-80.8 |
| Tweeter | Pylon Audio PST T-120.6 (Seas 27TDC) |
Sapphire 25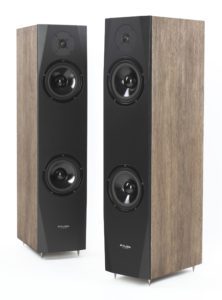 Hinta viimesitelystä riippuen 998€-1245€
| | |
| --- | --- |
| Impedance | 4 Ohm |
| Bandwidth | 35 Hz - 20 kHz |
| Nominal power | 120 W |
| Maximum power | 180 W |
| Efficiency | 89 dB |
| Dimensions [W x H x D] | 220 x 980 x 360 mm |
| Weight | 20 kg / piece |
| Woofer | 2 x Pylon Audio PSW 17-80.8 |
| Tweeter | Pylon Audio PST T-120.6 (Seas 27TDC) |
Sapphire 23
Hinta 858€-1089€
| | |
| --- | --- |
| Impedance | 4 Ohm |
| Bandwidth | 45 Hz - 20 kHz |
| Nominal power | 80 W |
| Maximum power | 160 W |
| Efficiency | 87 dB |
| Dimensions [W x H x D] | 160 x 980 x 270 mm |
| Weight | 14,5 kg / piece |
| Woofer | 2 x Pylon Audio PSW 13-80.8 |
| Tweeter | Pylon Audio PST T-120.6 (Seas 27TDC) |
Sapphire Center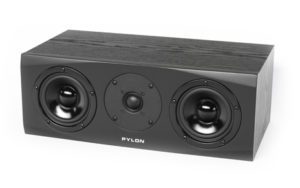 Impedance 4 Ohm
Bandwidth 50Hz-20KHz
Nominal Power 60W
Maximum Power 90W
Efficiency 88 dB
Dimensions 420x150x220mm
Weight 6kg
Woofer  2xPylon Audio PSW 12-40.8
Tweeter Pylon Audio PST T-120.6 (Seas 27TDC)
Hinta 285€-398€
Sapphire SAT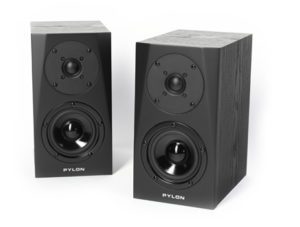 Impedance 8 Ohm
Bandwidth 55Hz-20kHz
Nominal power  40W
Maximum power 60W
Efficiency 86dB
Dimensions 150-280-220mm
Wight 4.5kg pcs
Tweeter Pylon Audio PST T-120.6 (Seas 27TDC)
Woofer Pylon Audio PSW 12-40.8
Hinta 398€-528€
Opal 23
Hinta 728€-1028€
| | |
| --- | --- |
| Impedance | 4 Ohm |
| Bandwidth | 38Hz - 20kHz |
| Nominal power | 100 W |
| Maximum power | 150 W |
| Efficiency | 89dB |
| Dimensions [W x H x D] | 190 x 1000 x 300 mm |
| Weight | 17 kg / sztuka |
| Woofer | 2x Pylon Audio PSW 18.8 CS |
| Tweeter | Pylon Audio PST T-50/8 |
Opal 20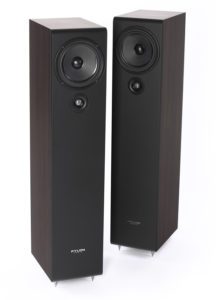 Hinta 548€-815€
Impedance 8 Ohm
Bandwidth 38Hz-20kHz
Nominal power 60W
Maximum power 100W
Efficiency 86dB
Dimensions 190x900x280mm
Weight
14 kg pcs
Woofer Pylon Audio PSW 18.8 CS
Tweeter Pylon Audio PST T-50/8
Opal Monitor
Impedance 8 Ohm
Bandwidth 45Hz-20kHz
Nominal power 60W
Maximum power 100W
Efficiency 86dB
Dimensions 190x400x280mm
Weight 7.5kg pcs
Woofer Pylon Audio PSW 18.8 CS/M
Tweeter Pylon Audio PST T-50/8
Hinta 458€-645€
Jalustat 195€
Pearl 27
 Hinta PVC-pinnalla 748€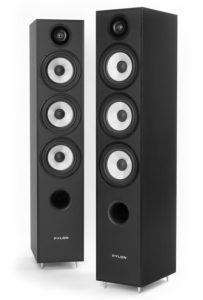 | | |
| --- | --- |
| Impedance | 4 Ohm |
| Bandwidth | 32Hz - 20kHz |
| Nominal power | 100 W |
| Maximum power | 160 W |
| Efficiency | 88dB |
| Dimensions [W x H x D] | 200 x 1020 x 280 mm |
| Weight | 18 kg / sztuka |
| Woofer | 2xPylon Audio PSW 18.8 FGS |
| Midrange speaker | Pylon Audio PSM 18.8 FGS |
| Tweeter | Pylon Audio PST T-80/8 |
Pearl 25
 Hinta PVC kuviolla 558€, PVC valkoinen
HG 645€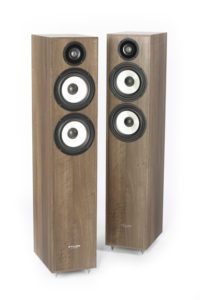 | | |
| --- | --- |
| Impedance | 4 Ohm |
| Bandwidth | 35Hz- 20 000 Hz |
| Nominal power | 95 W |
| Maximum power | 150 W |
| Efficiency | 89dB |
| Dimensions [W x H x D] | 200 x 980 x 280 mm |
| Weight | 15kg / piece |
| Woofer | 2xPylon Audio PSW 18-80/S |
| Tweeter | Pylon Audio PST T-80/8 |
Pearl 20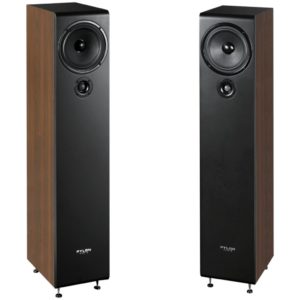 Impedance 8 Ohm
Bandwidth 38Hz-20kHz
Nominal power 50W
Maximum power 80W
Efficiency 86dB
Dimensions 200x900x250mm
Weight 12kg pcs
Woofer Pylon Audio PSW 18-80/S
Tweeter Pylon Audio PST T-80/8
Hinta PVC 395€, PVC HG valk 458€
Pearl Monitor
Hinta PVC 358€, PVC valkoinen HG 398€
Impedance 8 Ohm
Bandwidth 45Hz-20kHz
Nominal power 50W
Maximum power 80W
Efficiency 86dB
Dimensions 200x390x250mm
Weight 7.5kg pcs
Woofer Pylon Audio PSW 18-80/S
Tweeter Pylon Audio PST T-80/8
Pearl Sat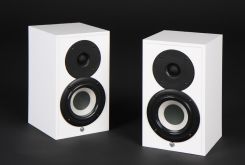 Hinta PVC 268€, PVC valk HG 298€
Impedance 8 Ohm
Bandwidth 65Hz-20kHz
Nominal power 40W
Maximum power 60W
Efficiency 84dB
Dimensions 155x270x160mm
Weight 3.3kg pcs
Woofer Pylon Audio PSW 10-60/S
Tweeter Pylon Audio PST T-80/8
SOVI TESTIKUUNTELU / PYYDÄ LISÄINFOA